Computer Service
Mobile Computer Services. Great Service, Fast and Professional.
We service and setup what the others sell. We help to make your computers and network faster.
We come directly to you to help with your computer related problems.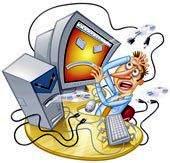 We can fix a range of issues like:
Internet connections or Problems with Wireless Networks and Printers.
Talk to your service Provider and Finally Sort Out Their Problems or Upgrade issues.

Connecting Smart TV's your XBOX or PS3 as well as any other devices to your home network.
Setup your new equipment including your tablets and smart phones.
Set up your new NBN internet service, we can help with many other Internet issues.
Computer Spyware, Malware or Virus Infections cleaned up. secure your computer and network
Installation or relocating and setting up your new or old computer systems.
Configure your backups for your important files and show you how to maintain and check them.
We can diagnose hardware faults in desktops and laptops, if required return them to our workshop for any repairs needed, saving you money.
Software Hardware and network upgrades as well as hard drive, email and network configurations.
If you can't see the problem you are facing here, don't worry, we can help you.
Give us a call and we will discuss your needs:  0428 422 010


Return To The Home Page From Computer Service Page

Go To The Computer Sales Page
Go To The Contact Us Page